Privacy
Ensuring the security and confidentiality of your information is paramount. Below we have provided details regarding how we gather, treat, use and protect your personal data. If you have any questions regarding this policy, please contact us immediately.
We collect the personal information from you that you may volunteer when you use our services, book reservations, order products on our site, subscribe to our newsletter or fill out a form. When ordering books, for example, you may be asked to enter your: name, e-mail address or phone number, and payment information. You may, of course, visit our site anonymously. Any and all of the information we collect from you may be used in one or more of the following ways:
To complete and administer your online reservation and forward your reservation details to the accommodations you've booked
To complete the sale and arrange the shipping of products offered through our website
To ensure you receive the information you have requested
To improve our website: we continually strive to improve our website offerings based on the information and feedback we receive from you
To improve customer service: your information helps us to more effectively respond to your customer service requests and support needs
The use of your personally identifiable information may be stored in our database or records for future reference. You are responsible for correcting any unclear or incorrect information.
The email address or phone number you provide may be used to send you information, respond to questions, and/or other requests. By submitting your mobile number, you agree to receive promotional and marketing SMS messages from Rythmia. Message rates may vary. We reserve the right to include your email or information contained within your email, or within any online forms, in your medical record. We will use reasonable means to protect the privacy of your information sent by email or filled out via any online forms on our website.
We may use cookies to keep track of advertisements and compile aggregate data about site traffic, site metrics, and site interaction so that we can offer better user experiences, tools and applications in the future. We may also contract with third-party service providers to assist us in better understanding our site analytics. These third-party service providers are not permitted to use the information collected on our behalf except in connection with their efforts to help us conduct and improve our business.
Our Web server automatically collects the IP address of the computers that access our site. An IP address is a number that is assigned to your computer when you access the Internet. It is not truly personally identifiable information because many different individuals can access the Internet via the same computer. We may use this information in the aggregate in order to better understand how our site is being used and how we can better serve you.
We do not sell, trade, or otherwise transfer to any outside parties your personally identifiable information. This does not include trusted third parties who assist us in operating our website, conducting our business, or servicing you, so long as those parties agree to keep this information confidential. We may also release your information when we believe release is appropriate to comply with the law, enforce our site policies, or protect ours or others' rights, property, or safety. However, non-personally identifiable visitor information may be provided to other parties for marketing, advertising, or other uses.
Please be aware, we implement a variety of security measures to maintain the safety of If we wish to use your personal information for a new or different purpose, we will first contact you for your permission. If you are receiving emails from us and wish to opt-out, simply contact us and we will make sure you are no longer subscribed to our mailing list or occasionally, at our discretion, we may include or offer third party products or services on our website. These third party sites have separate and independent privacy policies. We therefore have no responsibility or liability for the content and activities of these linked sites. Nonetheless, we seek to protect the integrity of our site and welcome any feedback By signing up for our mailing list or our newsletter, the user's email address will be added to the contact list of those who may receive email messages containing information of commercial or promotional nature concerning this website. One's email address might also be added to this list as a result of filling out the "contact us" form or after performing a purchase.
If you do contact us, we reserve the right to save your email and include the e-mail, or the information contained therein, within your medical record. This online privacy policy applies only to information collected through our website and not to information collected offline. By using our site, you consent to our website's Privacy.
If we decide to change our privacy policy, we will post those changes on this page, and/or update the Privacy Policy modification date below.
This policy was last modified on 12/18/20.
---
Terms
MSV, Inc., is a licensed Travel Agency, Fla Seller of Travel Reg. No ST42690 and is responsible for the collection of payment. MSV, Inc. will process the fee for everything included in your stay, medical supervision, program prices, food, accommodations, and every non-medicine payment associated with your stay. There is also a $160 ceremony fee which needs to be paid in cash to the medicine operating company on-site. You cannot use a credit or debit card for this charge.
Our website is designed for educational and informational purposes only and does not render medical advice. The information provided herein is not intended to be used for treating or diagnosing a health problem or illness. Our website is not a substitute for professional healthcare and is designed to support (not replace) the relationship you have with your healthcare provider. If you have or suspect you may have a health problem, please consult with your health care provider. If you believe you have a medical emergency, call you doctor or emergency medical services immediately.
---
Refund Policy
All reservations canceled before your arrival date will receive a credit toward future stays.
---
Rythmia Scholarship Program Terms
The following general terms and conditions apply to the Rythmia Scholarship Program. Please see the individual scholarship pages for additional eligibility criteria.
The application must be completed in full and submitted via the rythmialifeadvancement.com to be considered. Additional criteria or documentation for the scholarship program for which the applicant is applying must also be met.
All eligibility requirements must be met in order to be considered.
Employees of Rythmia or any of its subsidiaries and holdings are not eligible.
Students can be awarded only one scholarship.
Scholarship award recipients will be determined solely by the Rythmia Scholarship Committee. All decisions are final.
Recipients must pay for airfare to Rythmia.
Recipients must be medically cleared by the Rythmia Medical Team.
Award amounts apply for Rythmia tuition only and have no cash value. Additional expenses are the responsibility of the recipient.
If you are not chosen, you may apply more than once. Scholarship recipients must complete a new application to be considered.
Policies are subject to change at the sole discretion of the scholarship committee or Rythmia.
The Award Process
Applications are reviewed based on financial eligibility as well as your interview with the scholarship administrator. Financial Eligibility is based on applicants making less than 400% of the 2019 Federal Poverty Guidelines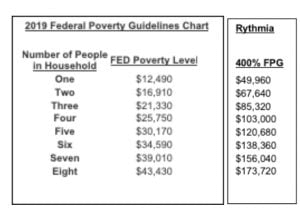 Qualified applicants will be contacted by the scholarship administrator to verify income and to conduct a one on one interview. Applicants must provide proof of income.
Finalists will be notified via email and must reply to accept their award. Applicants that do not respond within 14 days forfeit their reward.
The scholarship award covers all expenses at Rythmia LAC, and Transportation to and from Liberia Airport. Scholarship recipients are responsible for their own airfare to Rythmia and for any additional expenses.
Applicants must call into the Rythmia Call Center at 844-236-5674 to book their stay. Scholarship winner hereby agrees that the dates of their trip are subject to the availability of the Corporation's center.
In exchange for receiving the scholarship, scholarship winner hearby agrees that upon contacting Rythmia LAC they are subject to the terms conditions and policies of Rythmia LAC it's parent corporation and its subsidiaries